Why to do Agile Tester extension certification

ISQTB Agile Tester Certification is an extension of ISTQB Foundation Level Certification and in order to participate in ISTQB Agile Tester Certification you must have passed ISTQB Foundation Level Certification.
Agile testing is a relatively new approach to software testing that follows the principles of agile software development as outlined in the Agile Manifesto.
If you are working on an Agile project, you will work differently than the tester working on a traditional projects following Waterfall or V development lifecycle.
You must understand the values and principles that underpin Agile projects, and how testers are an integral part of a whole-team approach together with developers and business representatives.
Agile Tester Extension Course Contents
There are 3 sections in ISTQB Agile Tester Certification syllabus and the required skills for each section in order to pass the exam are listed in the image below.
Section 1 – Agile Software Development
Section 2 – Fundamental Agile Testing Principles, Practices and Process
Section 3 – Agile Testing Methods, Techniques and Tools
The picture below outlines the course contents for ISTQB Agile Tester Certification.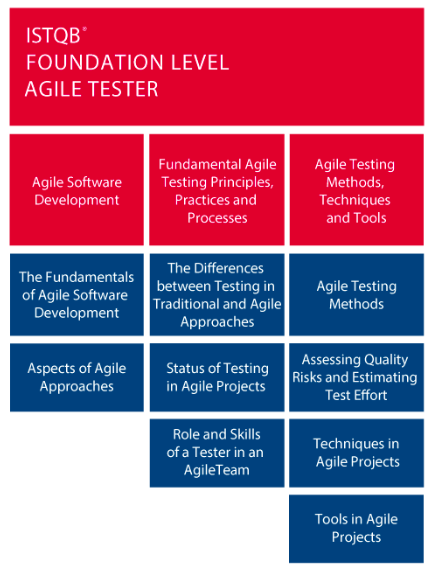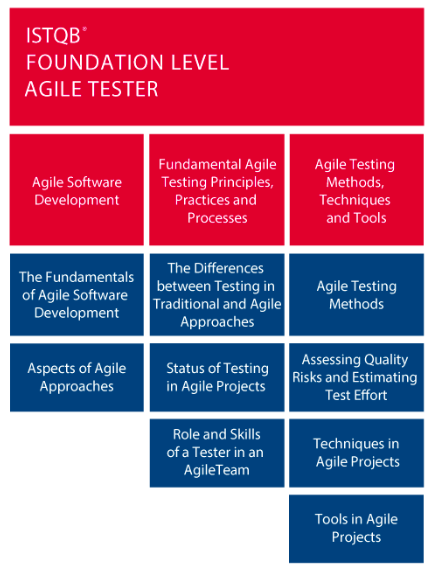 Business Outcome of ISTQB Agile Tester Extension
The following section lists the Business Outcomes expected of a candidate who has achieved the Foundation Level Extension – Agile Tester certification.
An Agile Tester can…
Collaborate in a cross-functional Agile team being familiar with principles and basic practices of Agile software development.
Adapt existing testing experience and knowledge to Agile values and principles.
Support the Agile team in planning test-related activities.
Apply relevant methods and techniques for testing in an Agile project.
Assist the Agile team in test automation activities.
Assist business stakeholders in defining understandable and testable user stories, scenarios, requirements and acceptance criteria as appropriate.
Work and share information with other team members using effective communication styles and channels.
In general, a Certified Tester Foundation Level – Agile Tester is expected to have acquired the necessary skills to working effectively within an Agile team and environment.
Agile Tester Extension Learning Objectives
Certified agile testers should be able to demonstrate their skills in the following areas:
The Fundamentals of Agile Software Development
The different agile approaches
The Differences between Testing in Traditional and Agile Approaches
Testing in Agile Projects
Roles and skills of a tester in Agile Projects
Agile testing techniques and methods
Assess product quality risks within an Agile project
Estimate testing effort based on iteration content and quality risks
Tools in Agile Projects
Agile Tester Extension Exam Structure

Similar to ISTQB Foundation Certification exam, the Agile Tester Certification exam shall comprise 40 multiple-choice questions.
Each correct answer has a value of one point. The maximum possible score for each examination is 40 points.
The time allowed for each examination is exactly 60 minutes. If the candidate's native language is not the examination language, the candidate is allowed an additional 25% time.
Same as ISTQB Certified Test Foundation level exam a score of at least 65% (26 points or more) is required to pass ISTQB Agile Tester Certification exam.

Overall question breakdown by K-Level is as follows:


Check out detailed info about ISTQB Agile Tester Certification here.
Download Agile Tester Extension Material from ISTQB website
If you want to appear for exam, you need to check available exam dates from your country's accredited testing board which conducts ISTQB exams in your country.
Visit ISTQB.org to get more details about syllabus, sample questions and in depth details about exam.